Atom Armor Elite 2.0 Knee Pads

PRICE: $50.00

Lowest Price Guarantee
view large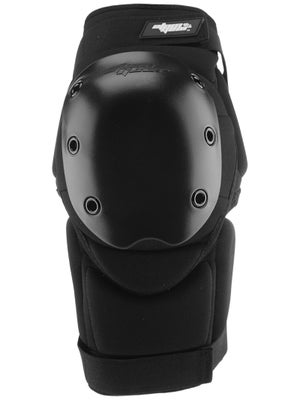 Atom Armor Elite Knee Pads are designed to literally adapt to your body like armor. High density impact foam is pre-shaped around the knee for optimal protection and comfort. The soft neoprene sleeve extends farther than typically seen in knee pads and features silicone strips to prevent them from sliding.
NOTE: Knee Pads come with cap off. Install the caps before putting the knee pads on and apply ample pressure to insure that all of the velcro is secure. If you try to put them on after they are on your body, they will likely pop off.
Comments: These knee pads are quite comfortable to wear. They dissipate the impact nicely and absolutely do not move on my legs. I've used them for derby practice for several months now (and I fall a lot).
From: Jerrod, Warner Robins, GA
Comments: I love these. I play roller derby and love the protection they offer without the bulk of other pads such as the Scabs. no knee gasket needed with these, and, they offer more mobility, as well, since they're not as bulky. They don't slip at all, either.
From: Cheri, Shelby Twp. MI
Comments: These knee pads are big. Way bigger than I thought and pretty much impossible to wear with jeans. Despite their size however, they are very comfortable to wear. The pads reach from about 2 inches above the knee all the way down to mid shins but do not hinder movement in any way. They are also very cool (as in air flow and breath-ability). Despite all the rough territory I skate in on my college campus, these pads do not fall down and do provide amazing protection. I feel these pads are for those who participate in roller derby, hockey on roller blades, or performing tricks but may be a bit much for casual skating in a park where you are doing the skating equivalent of jogging or walking. This is for 2 reasons: 1) the amount of padding and size are a bit over kill for super casual skating and 2) chances are you will not feel like putting them on b/c of the size. Nevertheless these are excellent knee pads and if you skate aggressively in a sport or if you are worried about f alling on old cracked up side walks or rode while going 17mph, I'd recommend them.
From: Tyler, Louisiana
Other Items to Consider
Atom Knee Pads
Atom Supreme Knee Pads have a traditional design, (compared to our Atom Elite protective gear), with improved protection and function. Designed and developed by skaters for all levels of competition. Atom Supreme pads have the perfect hard cap and padding combination, making it one of the most protective pads on the market.

Atom Armor elite pads are designed to literally adapt to your body like armor. Elite armor wraps the protected area in neoprene providing a secure sensation. Atom Elite Knee pads hold their position to be ready for impact at all times. Strategic protection is placed on both the inside and outside of knee to protect ligaments and tendon. Maximum protection without being too bulky.