Crazy DBX 6 Pro Xenon Skates

PRICE: $599.00

Free Shipping!

Lowest Price Guarantee
view large
360 View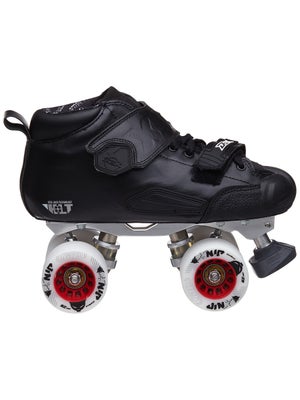 Crazy Xenon Skates offer elite level performance and comfort thanks to the combination of DBX 6 Pro Boots and Venus Plates. The DBX 6 is full leather, which is more breathable and moldable than the microfiber uppers found in other models. Hidden underneath is a stiff fiberglass sole that really packs in the power and provides crazy support. Soft CoolMax liners wick away moisture from your feet and are strategically padded around the ankle to improve heel security.
Venus Plates are lightweight aluminum with 20-degree action that is customizable through three sets of urethane cushions (included with skate). The end product is a fine-tuned, lightweight, and incredibly responsive plate that pairs perfectly with the DBX 6 Pro's powerful fiberglass sole.
See "Specs" Tab for More Details
Recommended Level of Play: Recreational - Competitive - Elite
Fit Guidelines: Narrow heel, varying toe box for wide or narrow fit.
Size Guidelines: See "Sizing Chart" below for more info.
Crazy DBX 6 Pro Boot
Polished Black Leather Finish
Lightweight Fiberglass Outsole
CoolMax Moisture Wicking Lining
Heel Lock Technology (HLT)
EVA and Poron Padding
Two Velcro Cinch Straps
Scuff-Resistant Toe Cap
Removable/Adjustable Heel Inserts
Orthopedic Footbed Insole

Venus Silver
Aircraft Aluminum Baseplate
8mm Aluminum Trucks
20 Degree Kingpin
PU Agility Cushions (3 sets!)
Delrin Pivot Cups
Adjustable Toe Stop Housing
5mm Hex Lock Screw
Jinx Slim Wheels
62x40mm
93A Durometer
ILQ-9 Twincam Bearings
Arrow Toe Stop
Long-Lasting, Non-Marking
Trapezoidal Footprint
Reversible to Emphasize Either Agility or Stability
No feedback at this time.
Other Items to Consider
Crazy Skates
Level of Play: Elite
Uppers: Full Grain Leather
Liner: CoolMax Cloth
Plate: 20° Aluminum


Fully heat moldable leather boot supported by a fiberglass sole means this skate is comfortable, customizable, powerful, and precise. Mounted to highly responsive and lightweight Venus Plates that roll on 93A Jinx Slim Wheels with ILQ-9 Gold Bearings.

Level of Play: Elite
Uppers: Microfiber
Liner: Microfiber
Plate: 20° Aluminum


A carbon copy (well, fiberglass) of the Argon package for the more performance-minded athlete. The DBX 4 Pro Boot replaces the rubber outsole with fiberglass for improved strength, response, and feel. Paired with a lightweight and agile Venus Plate.
Level of Play: Competitive
Uppers: Microfiber
Liner: CoolMax Cloth
Plate: 20° Aluminum


Lower-cut vegan DBX 4 Boot with a Venus Plate, Arrow Stop, and Jinx 93A Wheels. Higher end competitive package excels in durability and comfort, combining microfiber uppers and liners with form-fitting technology on the tongue, insoles, and around the heels.

Level of Play: Competitive
Uppers: Full Grain Leather
Liner: CoolMax Cloth
Plate: 20° Nylon



Why we love it: It's hard to beat the quality to price ratio on this skate. The leather boot is heat moldable for a custom fit and Apollo plate is a great option for skaters entering the competitive level.

MSRP: $199.00, You Save $40.03 (20%)
While Supplies Last!
Level of Play: Competitive
Uppers: Full Grain Leather
Liner: CoolMax Cloth
Plate: 20° Nylon


Snug, support-cut DBX boot that is heat moldable and loaded with fit enhancing features such as Heel Lock Technology and a 3D Tongue. Coupled with a sturdy nylon Apollo Plate rolling on Crazy's Control Wheels.

Sizes Available: EU42