Smith Scabs Elite Elbow Pads Hypno

PRICE: $39.00

Lowest Price Guarantee
view large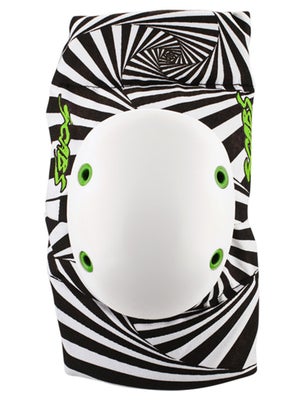 Smith Scabs Elite Elbow Pads - Hypno are built to keep you protected during the most extreme of sports. These elbow pads feature articulated design that forms to the elbow making to keep it flexible. The special foam system provides ultimate protection on impact areas and adds longevity.
Style: Sleeve
Closures: Top and bottom velcro straps
Fit Guidelines: Sleeve runs long and slightly large
Sizing Guidelines:

Pad Length

Small/Medium - 9"
Large/X-Large - 10"

Top Strap Lengths

Small/Medium - 11 - 14.2"
Large/X-Large - 13 - 16"
Comments: The first pair of these that I ordered I loved. In fact I loved them so much I told everyone I would never wear anything else. I ordered a second pair after my first pair wore out. I'm not sure if they changed their style or what but my second set is way shorter than my first. I'm not a fan of that at all. Not only that but the straps are all kinds of messed up on the left pad. They are to short and crazy tight to the point that it cuts off my circulation and makes it painful to wear. The right one fits fine. This makes zero sense since I am right handed/ right arm dominant so you would think if one would be tight it would be the right one. Needless to say I'm ordering a different set as we speak and now I have to go back to using my old pads til the new ones arrive.
From: Amy, LaSalle, IL USA
Comments: These pads did not fit me well at all. Some players absolutely love them, but personally, I am a tiny gal (5' and about 150lbs), these just slid right off of me with any amount of pressure. They also cover a huge amount of your arm. from about mid-forearm to mid-bicep. If you bruise easily on your arms or are a larger skater, these will likely be a good fit for you!
From: Anna in Beaverton, OR
Other Items to Consider
Similar Items
Smith Elbow Pads
Smith Junior Elbow Pads prove that you can get quality, comfortable gear for your little derby devil. The cool, breathable fabric allows for better mobility while also keeping the temperature way down. Sized specifically for juniors so the cap, straps and length are all scaled to fit younger skaters!

Colors: 1

Smith Scabs Elite Elbow Pads Hypno are built for extreme skate street/ramp riding. These elbow pads feature articulated design that forms to the elbow making it a flexible and contoured non sliding fit.

Colors: 2
The Scab Elite Elbow pads are the ultimate level in protective products. High quality and built to last. Designed by pros that know a thing or two about taking a hit and walking away. Perfect pads for Skate, Roller Derby or the any other sport where you require top notch protection. Designed to fit and stay put.

Colors: 4

Smith Scabs Leopard Print Elbow Pads are built for extreme skate street/ramp riding. These elbow pads feature articulated design that forms to the elbow making it a flexible and contoured non sliding fit. The wide, adjustable fitting elastic strap and two adjustable neoprene/velcro closures ensure great fit and comfort. Limited leopard print!

Colors: 5
Smith Youth Pads. Smith Safety, the makers of Scab Pads, Professional design pad set includes a set of knee pads, elbow pads, and wrist guards. Velcro closure allows for easy entry, and the absorbent slow memory foam and hard caps protect the knees and elbows. Hard plastic brace protects wrists from impact.

Colors: 6