Smith Scabs Elite Knee Pads Hypno

PRICE: $55.00

Lowest Price Guarantee
view large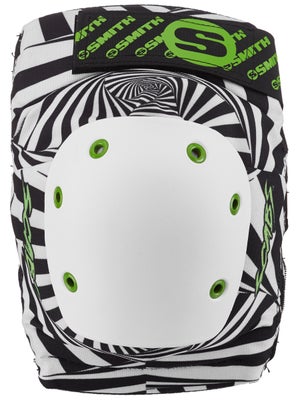 Smith Scabs Elite Hypno Knee Pads are built for extreme skate street/ramp riding. These knee pads feature an articulated design that forms to the knee making it a flexible and contoured, non-sliding fit. The special foam system provides ultimate protection on impact areas and adds longevity to the pads. The wide, adjustable fitting elastic strap and two adjustable neoprene/velcro closures ensure great fit and comfort. Designed to fit and stay put.
Professional design for Snow, Dirt and Street
Level 2 Rated protection
Open adjustable back design
Six-point riveted, rigid plastic hard-shells mounted on top of the oversized foam pads
Velcro closure for easy entry
Absorbent slow memory knee cup foam
White hard cap
Limited Hypno Graphics
Sizing
: Because the manufacturer supplies no specific sizing information, the following guidelines should be used when determining fit.
Pad Length

Small/Medium - 10.5 inches
Large/X-Large - 11 inches

Top Strap Lengths
Small/Medium - 10.5 inches to 14.5 inches
Large/X-Large - 12.5 inches to 16.5 inches

Bottom Strap Length
Small/Medium - 5 inches
Large/X-Large - 6 inches to 8 inches
Comments: These knee pads are the best I have used. I like that they are longer than usual pads which allows them to protect a few inches of my shin. Since the top strap is adjustable to be tighter as elastic stretches out, these wont slip down! My only complaint is that they only come in S/M and L/XL. I am generally a XS so I just added volleyball pads underneath and they fit perfectly!
From: Fem Fatal; Atlanta, Georgia

Other Items to Consider
Smith Knee Pads
Smith Junior Derby Knee Pads offer the same great protection found in the adult version, just miniaturized! Little Ones can play (and fall) just as hard as their larger counterparts and this pad understands that!

Colors: 2

Smith Derby Knee Pads are built tough for the rigors of derby. With three layers of padding, this is the most cushioned knee pad in the Smith line to date. The pad itself is shorter than the Scabs models to provide a more derby minded fit and flat, replaceable caps make it ideal for knee taps and falls!

Colors: 2
Smith Elite 2 Knee Pads take the Elite pad to the next level with better durability and heightened performance. Redesigned, removable caps have been flattened to provide a more stable surface for knee taps. The butterfly straps have been improved to allow for better fit and flexibility and the foams feature a circular cutout to cradle the knee cap and provide a snug fit.

Colors: 2

Smith Elite Knee Pads are designed for extreme skate, bike and snow. These top of the line pads are used by pros in sports ranging from snowboarding to roller derby. Open adjustable back design with velcro closure for easy entry, absorbent slow memory knee cup foam to give generous protection when you need it most. Designed to fit and stay put.

Limited hypno graphics!

Colors: 2
Smith Elite Knee Pads are designed for extreme skate, bike and snow. These top of the line pads are used by pros in sports ranging from snowboarding to roller derby. Open adjustable back design with velcro closure for easy entry, absorbent slow memory knee cup foam to give generous protection when you need it most. Designed to fit and stay put.

Colors: 4

Smith Elite Knee Pads are designed for extreme skate, bike and snow. These top of the line pads are used by pros in sports ranging from snowboarding to roller derby. Open adjustable back design with velcro closure for easy entry, absorbent slow memory knee cup foam to give generous protection when you need it most. Designed to fit and stay put.

Limited leopard print!

Colors: 5
Smith Horseshoe Knee Gaskets are neoprene braces that have additional impact-absorbing padding directly around the knee. Designed to be worn alone or under pads for extra protection, these knee gaskets will provide another level of support, comfort, and safety to skaters with weak or injured knees.

Colors: 4

Smith Youth Pads. Smith Safety, the makers of Scab Pads, Professional design pad set includes a set of knee pads, elbow pads, and wrist guards. Velcro closure allows for easy entry, and the absorbent slow memory foam and hard caps protect the knees and elbows. Hard plastic brace protects wrists from impact.

Colors: 6