Sure-Grip Zero Nuts 8pk

PRICE: $5.95

Lowest Price Guarantee
view large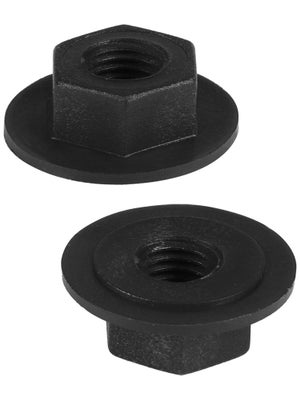 Sure-Grip Zero Nutz are made of nylon to be a super lightweight alternative to traditional aluminum axle nuts. With a built in dust shield, will add style and protect your bearings!
Comes in an 8 pack
Size: 8mm
Comments: I love these like I love my mama.
Comments: My favorite nuts so far. I love them, the bearing guard actually works, protects my bearings form dirt so I don't have to clean 'em so often and prevents problems with lateral loads and impacts, so they literally extend the life of your bearings. Plus, nylon gives a tighter fit, so the nuts don't get loose as often as metallic nuts. They're not as light as Astro Nuts but the bearing guard benefits makes that difference worth it.
Note: blue ones are not as seen in the pictures below, they're brighter and more turquoise-ish.
From: Anna, Uruguay
Comments: We skate on a VERY dirty wood floor and my bearings kept getting filthy super quick. I just purchased these and I have to say, they really do a great job keeping the dirt/dust/hair out of my bearings and inside of my wheels, not to mention they look cool! I bought purple (our team color) and they add a neat splash of color to my skates. Definitely recommend and for 6 bucks, you can't go wrong!
From: Jen, Ohio
Sure-Grip Nuts & Bolts