Vanilla VNLA Tuxedo Roller Skates

Was: $219.00

SALE: $198.97

Free Shipping!

Lowest Price Guarantee
view large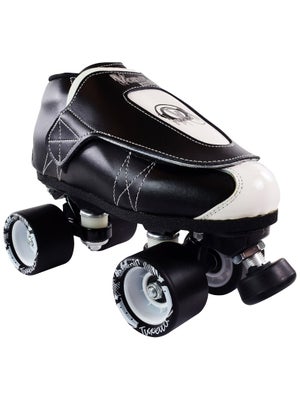 Vanilla Junior Skates highlight an affordable complete skate package that features a strong, fully stitched rubber outsole and a tough but comfortable skate shoe lining. The frame on this skate is Vanilla's first nylon frame - with 5 degree action to increase stability. Top quality Backspin wheels have a lifetime guarantee and ABEC-9 bearings that will keep you rolling! See "Specs" Tab for More Details
Toe Stop Color May Vary - If black is unavailable for some reason, we choose white so it matches.
Recommended Level of Play:

Recreational

- Competitive - Elite
Fit Guidelines: B/D last. Narrow heel and wider toe box.
Size Guidelines: Adult Sizing. See the "Sizing Chart" below for more info.
Vanilla Junior Boot

Leather uppers
Skate shoe lining
Stitched rubber outsole
Lace cover

Vanilla Gorilla Plate

Lightweight nylon baseplate
5 degree kingpins
Durable aluminum trucks
8mm axles

Backspin Tuxedo Wheels

95A
62mm diameter
Lifetime guarantee

Vanilla ABEC9 Bearings
Vanilla Pacer Mini Hugger Toe Stop

Comments: I've only worn them about 3 times now. Was looking for a lower cut boot and got these as a mid level price point. The boots are softer leather. Around the ankle they have worm me a bit. I had some bruising until after the first session. They are stiffer in that area even with one eyelet left free. I like the concept of the lace covers because I won't be worried about shortening them or tying them a particular way. The stock wheels are crap. Let's not sugarcoat it. I never have used stock and one glance at these wheels made me continue that. I also changed bushings. The skates ride stiff. The plate is plastic of course and needs some getting used to if not changed out. So far after about 8 hours total on them, they have held up very well. I was worried about scuffing the white toes, but have yet to do so(even with a couple of falls). I honestly like the pacer toe stops, but they wear down quickly. I am not upset with my purchase at all. Just wish Vanilla would upgrade their wheels because I feel like I got 2 sets of door stops...
From: Courtney, Kansas City, MO, USA
Other Items to Consider
Similar Items
Vanilla Skates
Vanilla Blackout Pro Roller Derby Skates take technology developed for jam skating and packs it into a great derby package. Starting with the popular Blackout boots mounted to the lightweight Gorilla plates, this package also features high quality Backspin Beastmode wheels, Vanilla Reaction ABEC9 bearings and a Carrera toe stop!

Vanilla Junior Skates have long been a favorite amongst jam skaters, and now they're taking jam skating to new heights with the Altitude! The boot has a rubber outsole and comes with a lightweight nylon plate, durable aluminum trucks, and a Carrera toe stop. Vanilla's Backspin Altitude Wheels are paired with ABEC-9 bearings.
Vanilla Tuxedo Skates are great, affordable skates for anyone looking to get into jam skating or roller derby. They have a soft, comfortable boot with 5 degree nylon plates. A lifetime guarantee on the top quality Backspin wheels and the ABEC-9 bearings will definitely keep you rolling for life!