Crazy DBX 6 Pro Boots

PRICE: $329.00

Free Shipping!
view large
360 View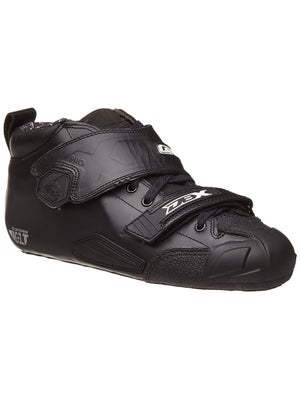 Crazy DBX 6 Pro Boots start with a lightweight fiberglass outsole that provides exceptional support and power transfer to every stride and skating motion. From there, Crazy added durable leather uppers and gave them a nice slick polished finish that also helps to reduce scuffing and abrasion, further aided by a scuff-resistant toe cap. The interior is a CoolMax cloth that wicks moisture away from your feet to help keep you cool and comfortable throughout. Strategically placed Poron and EVA padding inside helps lock down your heel while two velcro power straps do the same from the outside.
See "Specs" Tab for More Details
Recommended Level of Play: Recreational - Competitive -

Elite



Fit Guidelines: Extremely customizable with heat molding.
Sizing Guidelines: True to Crazy size, see "Sizing Chart" below.
Crazy DBX 6 Pro Boot
Polished Black Leather Finish
Lightweight Fiberglass Outsole
CoolMax Moisture Wicking Lining
Heel Lock Technology (HLT)
EVA and Poron Padding
Two Velcro Cinch Straps
Scuff-Resistant Toe Cap
Removable/Adjustable Heel Inserts
Orthopedic Footbed Insole
No feedback at this time.
Custom Skate Builder