187 Killer Fly Knee Pads

PRICE: $31.50

Lowest Price Guarantee
view large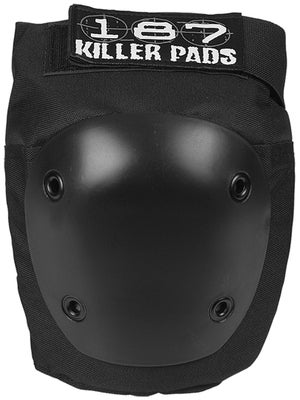 187 Killer Knee Pads showcase expert craftsmanship with contoured shape and seamless interior for fit and comfort. As 187s slimmest and most most affordable option Killers are the most versatile offering, great for everything from recreational skating to fresh meat to skate parks!
Caps: Riveted
Closures: Sleeve
Fit Guidelines: Fits very snug throughout.

DW recommends ordering the larger size if between measurements.

Sizing Guidelines:

Sizing (Center Measurement):

XS = 10 - 12"
SM = 12 - 14"
MD = 14 - 16"
LG = 15 - 17"
XL = 17 - 20"
Comments: I personally am a little on the bigger side and even the extra large does not fit. I would not recommend this for someone that is bigger. I can fit them on my knees, however, to get over my calf muscles is another story. I am trying to find someone else to take these. I did fall on them when I was wearing them and it was a good fall, but being my circulation was being cut off I dislike them for that fact. My knee measurements were 17" by the explanations of how to measure in the other 187 knee pads specs areas. If you are smaller I would recommend these though.

From: Cael, New Ulm, MN
Comments: Great knee pads! They have survived fresh meat and are still going strong. Comfy padding and a good fit, so no sliding. I would definitely recommend for beginners or skaters on a budget.
From: Mo, San Luis Obispo, CA
Comments: After 2 seasons of derby with my knee pads sliding off my legs, I finally decided to try the 187 Fly's in XS. They are GREAT! The caps are small for range of motion, but there is actually padding all around then knee. They are more protective than they appear. The fit is wonderful! They are preformed and fit SNUG on the knee so they stay put. Great for smaller, jammer types that need agility AND protection.
From: Sarah
Other Items to Consider
187 Knee Pads
The 187 Fly Knee Pad is their slimmest, most versatile knee pad and has become a proven option for safety and protection. The pad has a contoured design that hugs the knee, while its streamlined shape increases mobility. Size-specific knee caps keep close contact with the pad, further reducing bulk.

The 187 Killer Pads murders the competition with a revolutionary Lock-In Replaceable Cap System. These are high end pads for high end protection. 3-panel construction with dual density interior foam enables them to absorb hard impacts while still being light in weight with Dry-Fast interior lining.

Colors: 2
The 187 Pro Derby Knee Pads were developed specifically for roller derby. Designed, tested, and perfected by some of the top skaters in the world, they offer all of the protection of previous 187 models with a much slimmer profile!

Colors: 1

The 187 Killer Pads Knee Gaskets provide extra support and padding when worn in conjunction with knee pads or on its own. Features a curved ergonomic design, thicker padding around the patella, ventilated mesh, and double stitching for durability.
187 Lock-in Knee ReCaps come in two sizes (C1 or C2). Locate your knee pad and size on the chart (shown after clicking on cap) and then select the cap and color you want!

Colors: 10