Bones Bearing Tool

PRICE: $11.95

Lowest Price Guarantee
view large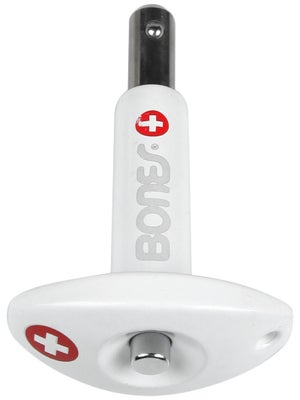 Easily remove your wheel bearings with the Bones Bearing Tool. Works with all 8mm bearings and is designed to put pressure only on the inner track of the bearings, keeping the shield from getting damaged. Can be used as a bearing press when installing new bearings into your wheels and small enough to fit in your pocket. Finally a bearing tool made by the bearing company by which all quality standards are measured.
Bearing press and puller
Ball detent technology for removal
Works with 8mm bearings and wheels without spacers
Has small hole for use as a keychain
Comments: This small tool is indestructible, inexpensive, and indispensable. The only time I've had any trouble using it was removing bearings from some Radar Diamonds, but that's not the fault of the tool. Just buy it already.
From: Nathan, Fayetteville, AR, USA
Comments: Works well. You need SOME kind of specialized tool to pull bearings, and this is definitely your most cost-effective option.Cons for this are the hand shape - if you've got a bearing that is resisting being pulled out, this thing does not have a very good grip at all and will hurt your hand if you tug hard. It's not sharp at all, but it's not soft either. I think the trick is to give a little rotation to the angle you are pulling at - you need to pull straight out from the wheel but it's very hard to judge the angle with this short little thing, so if you wiggle around a little more you'll find the right direction sooner or later. This thing is very very small, which is great because you can always have it in your gear bag without thinking about it.
From: Josh, Dallas, TX, USA
Other Items to Consider