Triple 8 EP55 Elbow Pads

PRICE: $26.99

Lowest Price Guarantee
view large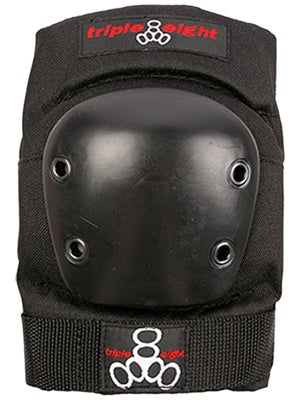 The Triple 8 Elbow pads feature heavy duty EVA memory foam and high-density, impact-resistant cap securely attached with reinforced rivets for great protection. The comfortable and cool lycra sleeve helps wick away moisture so you forget you're even wearing elbow pads!
Style: Sleeve
Closures: Top and bottom velcro straps
Fit Guidelines: Unisex fit, short sleeve runs slightly wide
Sizing Guidelines: Based on elbow circumference with outstretched arm:

XS / JR: Less than 6 inches
SM: 6-8 in
MD: 8-10 in
LG: 10-12 in
XL: 12-14 in
Comments: I bought these about 7 months ago when I first started playing roller derby. About 5 months into Fresh Meat they started to slip because the elastic stretched, which was expected. Two months later, the stitching has completely fallen apart at the seams exposing the padding. They served their purpose as inexpensive beginner gear. They were great while they lasted.
From: Mo (Fearless Bleedher)
Comments: I love these elbow pads. They do get stinky easily (I play derby, gear gets smelly quickly), but they are incredibly comfy, pretty low profile considering their good protections, and I've been beating them up for a while now and they are still in near perfect condition. I absolutely suggest getting these elbow pads over any other kind, in any price range.
From: Michelle
Comments:I just bought some of these pads, not from inline warehouse, though I wish I had. Considering I payed almost 10$ more. They fit great, don't slip around; which is a big issue for me considering how thin my structure is. They're really comfortable, and don't grab the ground when you slide, for the most part. However the Triple 8 knee pads were far to wide and loose so I ended up going for some Bern knee pads.
From: Evil Tim
Other Items to Consider
Triple 8 Elbow Pads
The Triple 8 Elbow pads are a fuller pad providing widespread protection. Velcro at both the top and bottom for a secure fit.

Triple Eight's Street Elbow Pads are a lower profile, secure-fitting, and comfortable protection for all sorts of skaters. High density EVA foams & hard plastic caps with reinforced rivets ensure protection against even the toughest of falls. A cool Lycra sleeve is further secured by velcro straps top & bottom.
The Triple Eight Covert Elbow Pads are a great choice for anyone looking for a low-profile elbow pad. It is flexible and breathable, which makes it great for low impact sports, activities or workouts. Easy pull-on and pull-off design makes these pads the optimal choice for times when pads are required, or you need just a little extra protection.

Triple Eight's Junior Derby 3-Pack features knee, elbow, and wrist pads designed specifically to provide quality protection for junior derby athletes. Durable construction, impact-resistant caps, and comfortable sleeves make this a phenomenal youth starter kit! Triple Eight does not provide specific sizing information but we suggest an approximate age range of 7-11 years old.